Guam's very own certified dermatologist, Dr. Jitka Lom at ExpressCare
Primary Care and Dermatology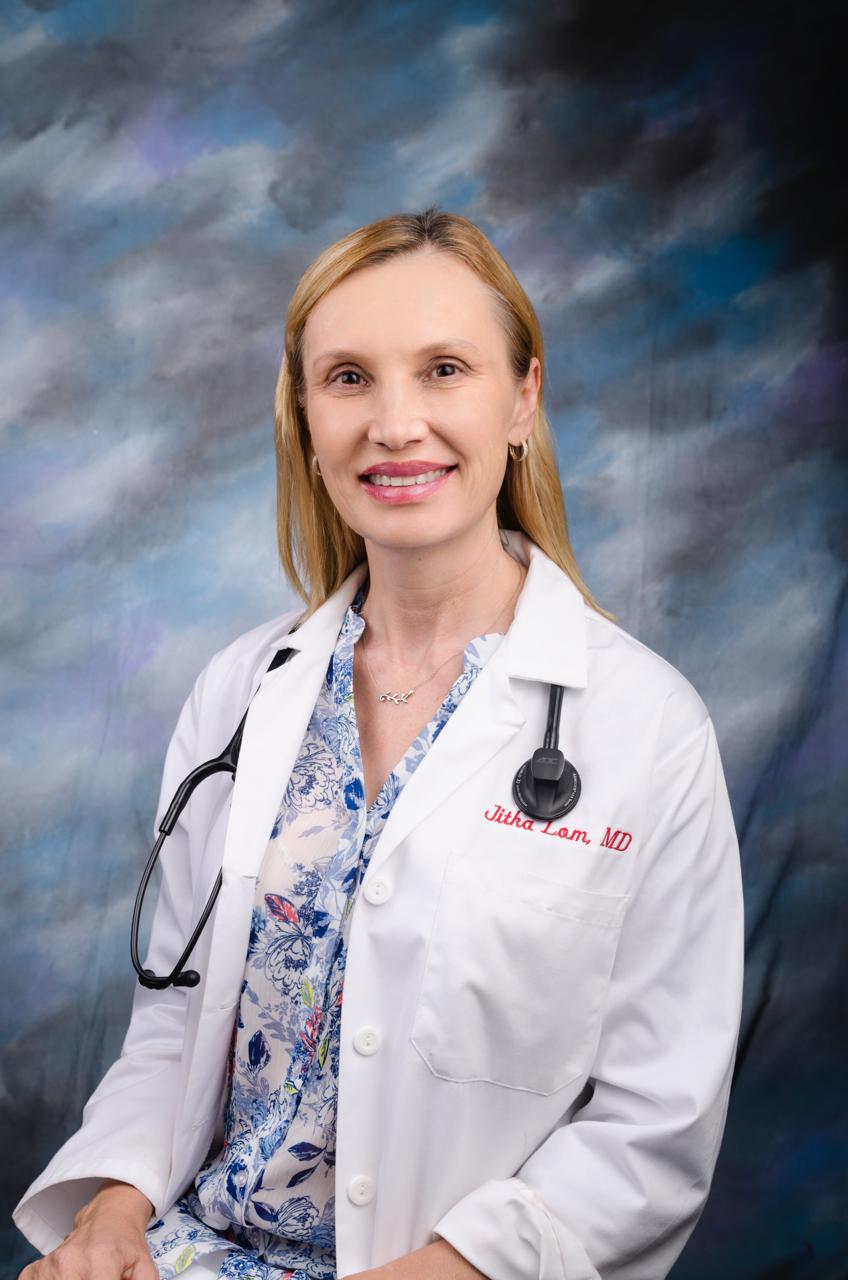 Dr. Jitka Lom
, owner of ExpressCare Health and Skin Clinics, has recently obtained a post-graduate diploma, with distinction, in dermatology from the prestigious Cardiff University in Wales. Dr. Lom is a board-certified family physician who has lived and served in the community of Guam for the past 20 years. Her interests and patient services include general medicine, family practice, dermatology, acne, psoriasis, eczema, and skin allergies.
Dr. Lom performs numerous procedures at her two ExpressCare clinics, which are located at Micronesia Mall in Dededo and Agana Shopping Center in the heart of Agana. As Guam's very own "Dr. Pimple Popper", she helps with a wide variety of skin and health issues including cyst removals, laser surgery on skin tags or moles, UV light therapy for psoriasis, chemical allergy patch testing for eczema, wart treatments, tattoo removal, biopsies and more. She also offers health and beauty treatments including botox, fillers, microdermabrasion, teeth whitening, laser hair removal and hydrafacials.
Dr. Lom has been practicing Primary Care Dermatology since 2004, dedicating over half her practice time to dermatology on Guam, and continuously engaging in additional training in the field. Primary Care Dermatology is a holistic practice, which recognizes rashes are often more than "skin deep"!   Our internal health affects our skin.  Many conditions such as diabetes, thyroid disorders, obesity, nutritional problems and auto-immune conditions have associated skin disorders.  Our mental health affects (and can be affected by) our skin as well.   Stress can cause many skin and hair problems also.   Primary care dermatologists can see the whole picture, and assist patients with all of these issues for healthier skin, body, and mind.
---
More about Dr. Jitka Lom
Medical Director, ExpressCare
Living on the beautiful island of Guam since 1999.
 
Education
2018-2019: Post-Graduate Diploma in Practical Dermatology, Cardiff University, Wales
1994-1995: Residency in Anesthesia for Family Medicine, University of Toronto , Canada
1992-1994: Residency in Family Medicine, University of Toronto , Canada
1987-1992: University of Toronto, Canada Faculty of Medicine, Doctor of Medicine (MD)
1991-1992 Jiangsu W.H.O. College of Traditional Chinese Medicine. Studied acupuncture
1985-1987: Nutritional Sciences and Biology, University of Toronto

Experience
Primary Care Dermatology, since 2004
Aesthetic medicine, Botox and lasers, since 2004
Family medicine, ongoing since 1994
Emergency medicine, 1994-2004
Occupational medicine, 1999-2004

Board Certification
American Board of Family Practice
Additional Certification:  Senior FAA Medical Examiner since 1999, providing FAA flight physicals for pilots and air traffic controllers 
Memberships
American Academy of Family Physicians
Canadian Council of Family Physicians
Guam Medical Association
Guam Medical Society

Continuing Medical Education
Recipient of AMA and Guam Physician Recognition Awards for ongoing medical education.
Devoted to continuing medical education, both formal (conferences) and informal (journal reading, consultations).
Attends medical meetings worldwide, including USA and Asia.
---

More About ExpressCare
ExpressCare
is a women-owned and operated business. Serving Guam for over 12 years, ExpressCare employs over 20 local hires. ExpressCare clinics are licensed with a mission to provide comprehensive medical care for local families including specializing in skincare health and FAA flight physicals for pilots and air traffic controllers. ExpressCare is committed to the local community and currently sponsors the WINGS Youth Soccer Club to encourage healthy and happy Guam kids. Visit the main clinic website,
www.ExpressCareGuam.com
.  
---

6 Reasons to Schedule a Dermatologist Visit
A dermatologist, such as Dr. Jitka Lom at ExpressCare, plays an important role in educating, screening, and treating various skin issues, including:
Acne. If you have acne that is not responding to an over-the-counter skin treatment, you may want to schedule a visit with a dermatologist, advises Woolery-Lloyd. A dermatologist can determine which kind of prescription treatment would be most effective for your acne and lifestyle, according to the AAD.
 
Skin cancer. A dermatologist can screen you for skin cancer. Talk to your family doctor or dermatologist about how often you need to be checked for changes to your skin. An annual body check is especially important if you are in a high-risk group — if you are fair-haired or light-eyed, or you have a history of blistering sunburns, according to the National Institutes of Health.

"As dermatologists, we know that the early detection of skin cancer by routine skin examinations is crucial for successful treatment," says Robert S. Kirsner, MD, PhD, chair of the department of dermatology and cutaneous surgery at the University of Miami's Miller School of Medicine.

In addition to regular screenings, you should also see a dermatologist if you notice a change in the shape, size, or coloring of any of your moles. A dermatologist can remove some or all of the suspicious tissue and examine it under a microscope to check for cancerous cells. Dermatologists also see people who are being treated for other cancers and experiencing skin side effects due to their medication.
 
Eczema. This chronic skin condition is characterized by irritation, itchiness, and flaky patches of skin, according to the AAD. A dermatologist can help find ways to manage your eczema and prescribe any necessary treatment.
 
Skin damage. If you are concerned about minimizing skin damage or caring for aging skin, a dermatologist can suggest products or lifestyle changes that reduce your exposure to damaging elements.
 
Specialized care of skin, hair, and nails. You can talk to a dermatologist regarding any concerns you have about almost any condition that affects your appearance, according to the AAD. For example, skin conditions ranging from discolorations, to warts, to stretch marks, to psoriasis can all be treated by a dermatologist.
 
Scar treatment. Dermatologists can offer skin treatments to improve the look of almost any scar, including acne scars and keloid (raised) scars, according to the AAD. A dermatologist may refer you to a plastic surgeon for enhanced treatment of more serious scars, such as those due to burns.